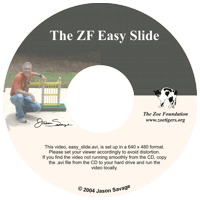 A new slide door designed and produced by me, Jason Savage, and Jack Lancaster. It installs between four schedule forty poles. The photo shows a portable display that uses a small door. I produced a video CD that demonstrates how the door is installed. If you would like a copy, please send me a request.
We have produced 36″ x 24″ slide doors that were used between tiger cages and wolf cages. The photo at left is the large door. Any size can be produced. The doors are powder coated and can be done in a wide color range. The retail cost of a 36″ x 24″ slide door was $515.00 in 2007. I have not priced the materials lately. The Slide Doors PDF file shows the doors in place.
The door you used in a wolf cage used our top rail design mated to a field constructed, chain link door. The same can be done with tiger doors.

One of the photos below shows the drop door I designed. When I took the design to Jack, who teaches students machining at NCSU, he didn't think it world work. The door is designed to automatically lock in the up and down positions. It uses a single cable pull to activate. After we finished building the prototype we tested it by affixing it to a tree. It worked perfectly. You can see its installation by clicking on the Drop Door PDF file.

If you have an interest in either of these door designs, please drop me a note.

Drop Door

Slide Doors