The Zoe Foundation Save the Tiger Challenge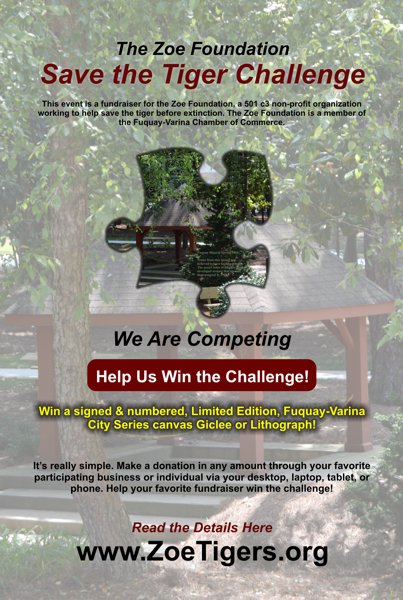 This 18″ x 24″ poster will be available to all participating businesses and individuals.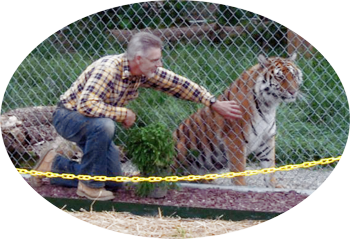 The Zoe Foundation Save the Tiger Challenge is a fundraising event that provides the opportunity for a limited number of businesses, or individuals, to compete for the original Fuquay-Varina City Series Tribute, limited edition canvas giclees and lithographs. My name is Jason Savage, founder and director of the Zoe Foundation, a 501 c3 non-profit organization and member of the Fuquay-Varina Chamber of Commerce. Our mission is to help save the tiger before extinction. In addition, I am a digital artist. I invite you to read my CV. I will be donating my time to create this city series tribute.
The Save the Tiger Challenge is a prototype event. The challenge is who – out of fifty fundraisers – can achieve the highest donation total for the Zoe Foundation in a fixed amount of time. If successful, this event will be replicated in other cities. Since the foundation is a chamber member and the focus of the Fuquay-Varina City Series Tribute is the town, optimally I would like all participants to be from Fuquay-Varina, but anyone can participate.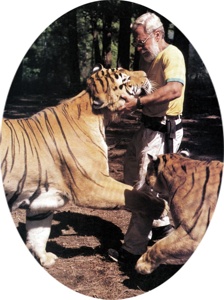 Funds raised will be directed toward one of the foundation's goals, honoring the late Dr. Michael Bleyman. He was a Zoologist, world renowned tiger expert and my mentor. He was a professor at the University of North Carolina and founder of the Carnivore Preservation Trust in Pittsboro, NC. He dedicated his life to saving the tiger and other endangered species.
Here he is with one of his favorite tigers – Romeo. We want to commission a bas-relief sculpture of this image. Placement of the original is yet to be determined. Miniatures will be made available to collectors with proceeds going to the foundation.
I invite you, as an individual or business, to sign up as a fundraiser to compete in this Save the Tiger Challenge. Help us honor Dr. Bleyman. I welcome your participation and support. Please read the following Q&A for additional information.
The La Enigme de Fuquay-Varina City Series Tribute will be produced following the completion of the Zoe Foundation Save the Tiger Challenge. If you have any questions, please contact me.